I exported my blog posts yesterday as a back up and thought I'd have a quick play around. I counted up the posts from 2006 when I started, 2007 and 2008. Then I wondered what my 'proper' academic output had been over this time, as I have the feeling it has fallen off somewhat. And yes, whereas I was averaging around 6 or 7 publications pre-blogging, since 2006 it has been about 3.
I think there are two main reasons for this:
1) The motivation to write papers has decreased - apart from getting an RAE ranking, the main reason to publish is to share ideas and fulfill a creative urge to write. Blogging meets these needs better than formal publications.
2) There is more than one way to network. I'm not a big fan of attending conferences (I've got enough bags, thanks), but I used to go to quite a few as this was the only way of getting to know those in your field. So, I used to write conference papers to achieve this aim. Now, I have a much wider and richer network through blogging and twitter, so that motivation is also reduced. I still think it's valid, and meeting people face to face adds to that network, but it doesn't have the monopoly it once did.
Here is a graph of my publishing versus blog activity (no. of blog posts is divided by 10).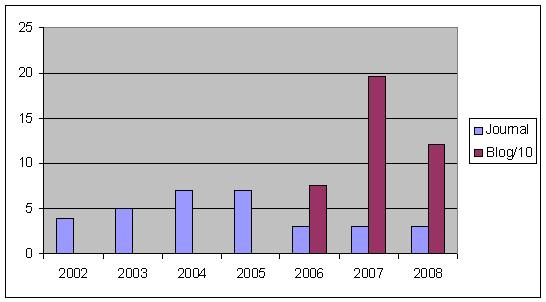 Obviously this won't be the same for everyone, Grainne for instance still keeps up a formidable publication record despite taking up blogging. But I think we might see a similar pattern for many academics who get bitten by the blog bug. I think it's a good thing, but if I was an aspiring, newly qualified academic and formal publications were what counted, I guess I'd have to be wary of this effect.
Anyone else noticed a similar trend?