In my previous presentation one of the slides I didn't get to displayed the following Venn Diagram for what I term 'The Lamb formula'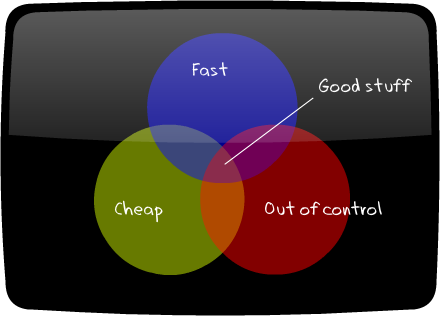 (Image created by crappygraphs)
This is from Brian Lamb, who borrows the title from Errol Morris' documentary, to describe the kind of technology he likes, and thinks is useful. My take on these three elements (which may be different to Brian's) as they pertain to education is:
Fast - Technology that is easy to learn and quick to set up. You don't need to go on a training course to use it, or put in a request to central IT services to set it up. This means you can experiment quickly.
Cheap - tools that are usually free, or at least have a freemium model so you can buy any extension out of your own pocket. Animoto is a good example - you can create free 30seconds videos or pay a small one-off fee to create a longer one. Slideshare is an example of a free service. This means you don't need to get authorisation to use them from a budget holder. It also means you don't need to worry about the size of audience or return on investment, which is liberating.
Out of control - they are outside of formal institutional control structures, so they have a more personal element, and are more flexible. 
Overall, this tends to encourage experimentation and innovation in terms of both what people produce for content services, and the uses they put technology to in education. If you've invested £300K in an eportfolio system, say, then there becomes an obligation to stick with it over many years. If you've picked a free blog tool and told students to use it as a portfolio you can switch if you want to and also put it to different uses.
There are, of course, many times when this approach may not be suitable, but that doesn't mean it is never appropriate. Thinking about this also brought to mind a couple of conversations I've had with Liam Green-Hughes recently, who is very interested in the notion of 'good enough'. Liam is referring to hardware often when he talks about this, the Flip cam being a good example. It is good enough at recording to make the lightweight device and the ease of use be determining factors.
I have wondered what 'good enough' means in education terms. In his Open Ed keynote Erik Duval suggested that we can afford to disrupt education, because we don't do a particularly good job anyway. I think we do sometimes become scared of experimenting in education and become obsessed about every possible bad scenario, while ignoring some of the current deficiencies (in fairness this is partly a reaction to the litigious environment universities now have to exist in).  The good enough approach suggests that using fast, cheap and out of control technologies in education is at least good enough, and may be superior in that offers new ways of working.